Daniel Ricciardo has been having a rough few weeks. Last August 24, he announced that he would no longer be racing for McLaren next season, sharing that it was a mutual decision between him and the team.
And in the recent Dutch Grand Prix, he qualified in 18th (while teammate Lando Norris made it to the top 10) and finished the race in 17th. To make matters worse, during the pre-race features shown on F1 TV, Formula 1 displayed a graphic under his name that read, "Struggling again".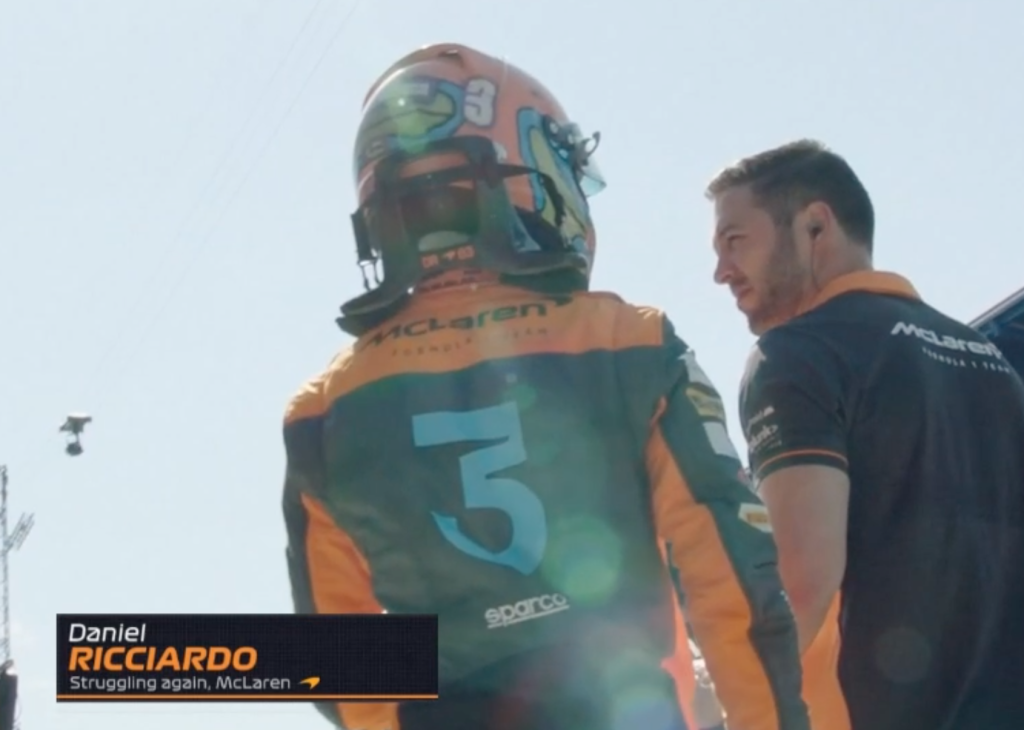 It was a pretty low blow. But, it did acknowledge an elephant in the room.
Ricciardo's last few seasons in F1 have been dismal, and currently, he does not have a confirmed seat with any other team for next season. But, the response of the F1 community to the announcement has been divided. Others saw it coming given Ricciardo's performance through the last few seasons in F1. Meanwhile, the other half of the crowd believes that the former Red Bull star still has more to give.
So let's review. Are Danny Ric's best days behind him?
The good old days
Daniel Ricciardo started driving in Formula 1 in 2011, but he started to really get people's attention when he came to Red Bull.
In the Australian's first season with Red Bull, he was definitely the breakthrough driver of the pack, with his three Grand Prix wins. Considering that this was the season when Mercedes began their seven-year reign, this is a huge feat in itself. And, by the end of the season, he was the only non-Mercedes driver to even win a race.
And from 2015 to 2018, Ricciardo continued impressing us all. While he was at Red Bull, the team's car wasn't exactly as competitive as Mercedes' or Ferrari's. But even so, his skill translated time and time again on the track, especially in his overtakes.
Although in 2015, he and Red Bull were held back due to their power unit, 2016 and 2017 were good years for Ricciardo by the team's standards. Despite finishing behind Verstappen in 2018, Ricciardo still had a good season that year too. He had two pole positions and four fastest laps, and his one victory was arguably his most memorable: the Monaco Grand Prix.
All in all, I think we can all agree that Daniel Ricciardo was at his best at Red Bull. So in 2019, when he announced that he would be leaving the team to join Renault, it was a huge surprise.
Search for stability (or spotlight)
At the time Ricciardo explained saying that it was a "lack of stability" that prompted his decision, given that his engineer was set to leave and Red Bull was making a switch to Honda engines. But, a lot of people seem to think that the real reason he decided to leave was that he didn't want to become second fiddle to the rising star Verstappen.
This is a valid argument. In the past, team principal Christian Horner hasn't exactly been dubbed as the "unbiased" boss in Formula 1. And although all teams do put one driver over another to some extent, I would say that this is often especially evident with Red Bull. I think Mark Webber might agree.
But whatever Ricciardo's reason for leaving was, it was good enough for him to leave behind the familiarity he had with Red Bull.
Not a second driver
When Daniel Ricciardo first joined Renault, it looked like a mistake right off the bat. He opened the 2019 season with three retirements in four races and by the end of the year, he had retired five times. With his 54 points, he classified ninth in the drivers' standings.
His second season with Renault was much better. He finished on the podium twice and only suffered one retirement, finishing fifth in the drivers' standings. His teammate Esteban Ocon finished 12th.
The car was what it was—not great. He spent a lot of time getting used to it, but by Renault's standards, he pushed enough. And, if he didn't want to be a second driver, he definitely wasn't here. But, naturally, I think any driver would look for more.
Enter McLaren.
Potential, but unfortunately, not much else
In 2021, Daniel Ricciardo left Renault and started driving for McLaren alongside his new teammate, Lando Norris. This was a promising partnership. After spending several seasons competing in the back of the field, McLaren looked to be on their way up, finishing fourth in the constructor standings in 2019. And with the potential the team had in both Ricciardo and Norris, I think we all hoped to see them as a top-three team.
It just didn't happen.
Throughout the majority of 2021, Ricciardo struggled to max out the potential of his McLaren. Though he only retired once and even won the Italian Grand Prix (okay this was amazing), the remainder of his season wasn't incredible. And in comparison to his teammate Norris, whom he only outperformed seven times in the season, the British driver was more consistently finishing in the points.
2022 looks more or less the same. The new cars brought a new learning curve to overcome. Out of 14 races, he has only finished in the points four times. Comparatively, Lando has only been out of the points thrice.
McLaren Team Principal Andreas Seidl confirmed that Daniel just never found his groove. "In terms of performance, for an F1 driver to pull off performances, he needs to be fully one with the car. We didn't manage that he was as comfortable as Lando was, especially when it came to pushing to the absolute limit," he said.
Now, Daniel Ricciardo enters the last stretch of the 2022 season with his future in F1 up in the air. And with it, the assurance that he still is one of the top drivers.
Now what?
When the Aussie left Red Bull to join Renault, even those of us that were shocked didn't feel too worried. At the time, he was still a rising star. His iconic win at the 2018 Monaco Grand Prix felt like one of many more to come. We all figured that one way or another, with Red Bull or not, we'd see more shoeys down the road.
Sure, since joining Renault and McLaren, he hasn't been totally out of the picture. He bagged a couple of podiums and he got that sweet victory at Monza last year. But still, ever since, Danny Ric just became one of those moment-to-moment drivers. Successes became few and far between. And it is admittedly ironic. As he said, he left Red Bull in fear of a lack of stability, yet that was the very move that started the instability of his career.
It happens, even to world champions. We probably just wouldn't have thought it would happen to him so soon.
This is not to say that it is over for the beloved Daniel Ricciardo—that the skill he displayed at Red Bull just disappeared the moment he left. He still showed glimpses of the skill we all knew he had.
With Renault and McLaren, things just didn't fit as well as we had hoped. And that matters in any sport.
But with the struggles he faced when it came to adjusting to new teams, it becomes increasingly unlikely that he'll find the fit that he once had with Red Bull. At least not instantly, anyway. But at his age, and with the long list of talented young drivers in the market, time isn't exactly on his side.
But I would l love to be proven wrong. With Alpine and Haas looking like potential suitors, I do hope that he ends up with a seat in F1 next season. And I hope that he does get the chance to prove that this isn't the end for him. Not just for everyone watching, but for himself too for that matter.